The Rangers are in the 2011 Vic Bowl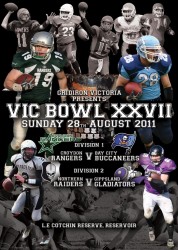 The Rangers are into another Vic Bowl, facing the Bay City Buccaneers this Sunday afternoon at 2pm!
The 27th Gridiron Victoria Senior Vic Bowl for season 2011 will be held on Sunday, 28th August at the Northern Raiders, LE Cotchin Reserve in Massey Avenue Reservoir (map).
There will be a range of facilities available on the day including canteen, bar, match program and entertainment.
All GV teams, members, family and friends and the general public are welcome to attend.
The division two Vic Bowl between the Raiders and Gladiators gets underway at 10:30am.
Entry is free.
To RSVP, check out the Facebook Vic Bowl event…